Veal fillet (180/200gr)
in cannonau sauce, in green pepper, in roquefort sauce
7
Sliced Angus beef steak (450/500gr)
with rocket, grana padano cheese and cherry tomatoes
3 – 7
Grilled Angus beef steak
with a choice of side dish: mixed salad, baked potatoes, chips, french fries*, grilled vegetables
1
Grilled horse steak (450/500gr)
with a choice of side dish: mixed salad, baked potatoes, chips, french fries*, grilled vegetables
1
Mixed fried fish
(squids*, shrimps*, fish*) with a side dish of choice: mixed salad, baked potatoes, chips, french fries*, grilled vegetables
1 – 2 – 4 – 14
Fried squids
with a side dish of choice: french fries*, baked potatoes, mixed salad or chips
1 – 14
Buns Gourmet
(home-made grilled bread, smoked salmon, citronette sauce, rocket and pistachio pesto, Stracciatella cheese, Camona tomatoes) with a side dish of a choice: mixed salad, baked potatoes, chips, french fries*, grilled vegetables
1 – 4 – 7 – 8

Vanity Buns
(home-made grilled bread, grilled Angus hamburger, fried eggplant, tomato cream, Parmesan cheese, crispy Guanciale, caramelized onion) with a side dish: mixed salad, baked potatoes, chips, french fries*, grilled vegetables
1 – 3 – 7
Cheeseburger angus beef 225gr
bread, mixed salade, cheddar, grilled angus hamburger with a side dish of choice: mixed salad, baked potatoes, chips, french fries*, grilled vegetables
1 – 3 – 7 – 11
Grilled angus beef hamburger 225gr
with a side dish of choice: mixed salad, baked potatoes, chips, french fries*, grilled vegetables
3
Vegetarian Buns
(home-made grilled bread, spinach and potato burger, tomatoes, fried onion rings, sour cream) with a side dish: mixed salad, baked potatoes, chips, french fries*, grilled vegetables
1 – 3 – 7

Chicken nuggets*
with a side dish of choice: mixed salad, baked potatoes, chips, french fries*, grilled vegetables
1
Spiced Chicken
with a side dish of choice: mixed salad, baked potatoes, chips, french fries*, grilled vegetables
1
All sandwiches are available GLUTEN FREE
Land and Sea Salade
mixed salad, tomatoes, potatoes, green beans, shrimps and powdered bottarga
2 – 4 – 12

Caesar Salade
salad, grilled chicken, grilled bacon, crostini, flakes of Grana Padano cheese, Caesar sauce
1 – 7 – 12

Arcadia Salade
tomatoes, Robiola cheese, avocado, smoked salmon
4 – 7

Caprese Salade
Fiordilatte mozzarella, tomatoes, basil
7
Grilled vegetables
radicchio, oubergines, courgettes
Seadas
typical sardinias dessert* with honey, icing sugar, zest of orange
1 – 7
Sweet ravioli glazed with orange
honey and icing sugar
1 – 7 – 8

Banana Mou
biscuit base, toffee cream, banana, spray cream
1 – 3 – 7 – 8

Affogato alla nutella
vanilla, coconut or pistachio ice-cream with nutella
7 – 8

Nutella crepe
1 – 3 – 7 – 8

Molten lava cake
1 – 3 – 7 – 8

Coffee truffle filled with nutella
1 – 3 – 7 – 8

Tiramisù Gluten Free
1 – 3 – 7 – 8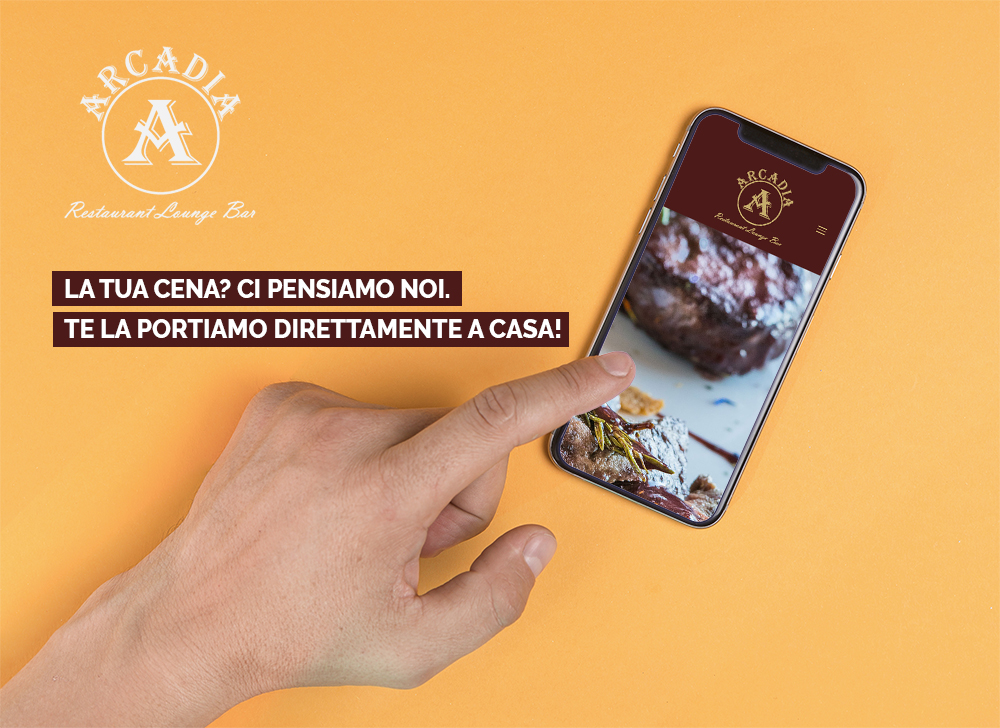 WE DELIVER TO OUR HOUSE
Choose from the menu, call us to book your order and wait for the delivery.
You can compose your meal as you see fit, you have a
wide and extensive menu
for all tastes and palate.
We use eco-friendly, comfortable, and versatile tableware they are for taking away hot up to 90 degress, for this reason we guarantee the same quality and goodness of our service restaurant but directly to your home.
Delivery every day for lunch and dinner. You can pay in cash, credit card or bancomat (to report to the call).
Delivery price = 2 euro.